Wednesday, August 18, 2004
Well guys... what do you think of the new look? As usual I was bored so I kinda experimented. Bwahahaha. How yallz doin? Well mine is quite fine. Emman had a party yesterday and it was fun. I took pix and of course... there's always me in those pics. Hahaha.. like me and Gene etc. [Juz look at the pics below aiight?]
Gene, James, Josef, Cheeno, Mark, Justin Ernest, Majel, me, Czary, Yek2, and Czary's brother were there.
Then after the party... Majel and I went to A.D.M. I was hoping to see someone but I saw somebody whom I'm not supposed to see. Wtf? Who?
Booda
. What the hell? As what I knew he's coming here at August 19 but shocks... yesterday was only 17 dammit... but actually I was still doubting. He changed. He looked different. But the shirt he wore was the same shirt when I first saw on him. I gave him missed calls but he never return any damn call. His number in "Suria" was still ringing when I tried it last night but his number here is also working since Saturday, I think. Shocks! Is the guy I saw really him? Hope not. Anyway... peace!
I really love being with these two guys...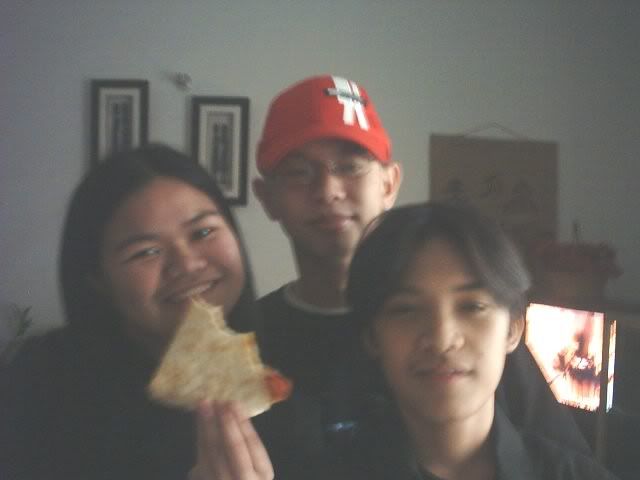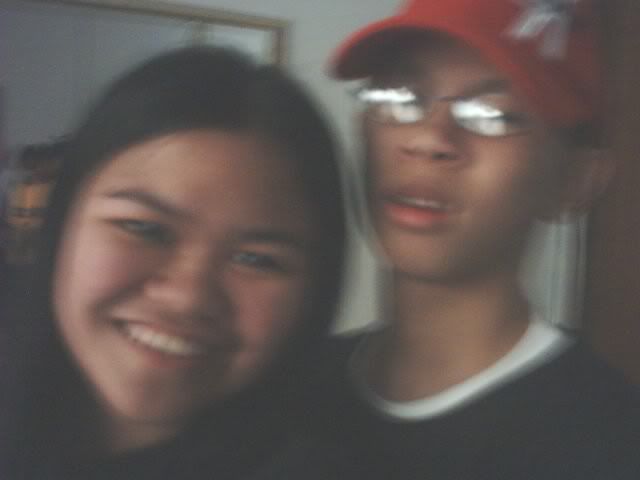 Majel said we're cute together... what the hell?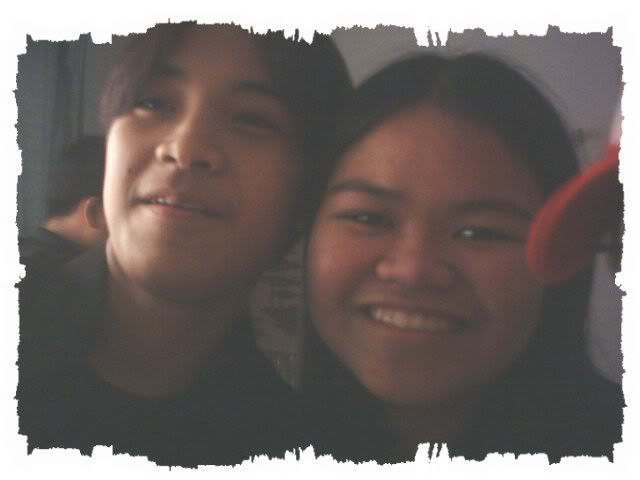 As usual... Czary and me... : ) [i just really love hearts...]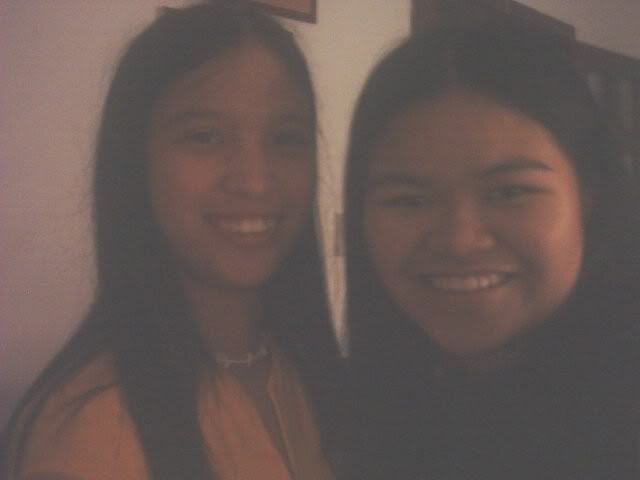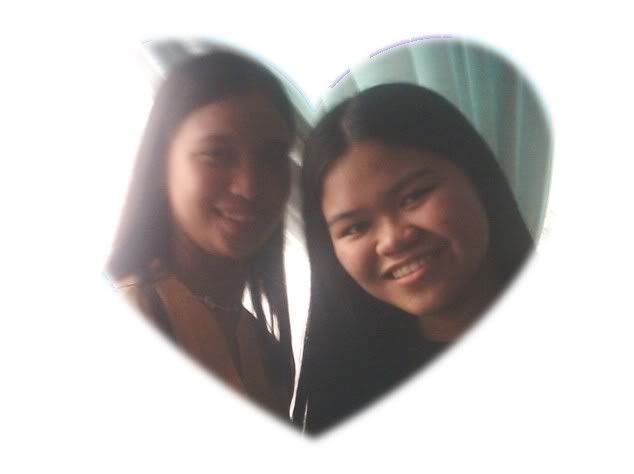 Now this two look good 2geder bwahahaha!!! Joke! Either Gene and Kristine or James and Kristine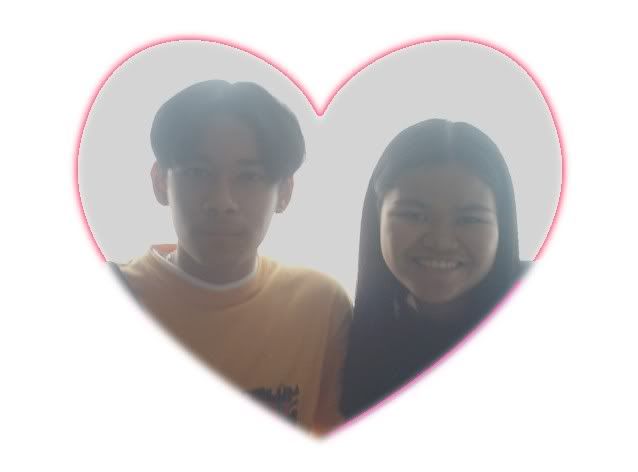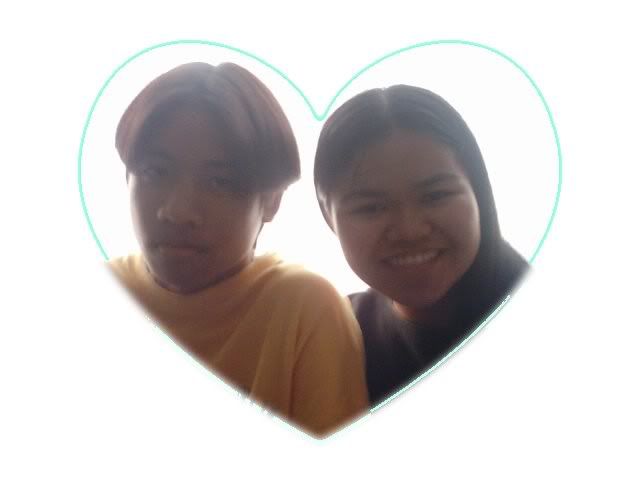 Emman[birthday boy... lolz] and Josef - - - - - -> Josef, James and Emman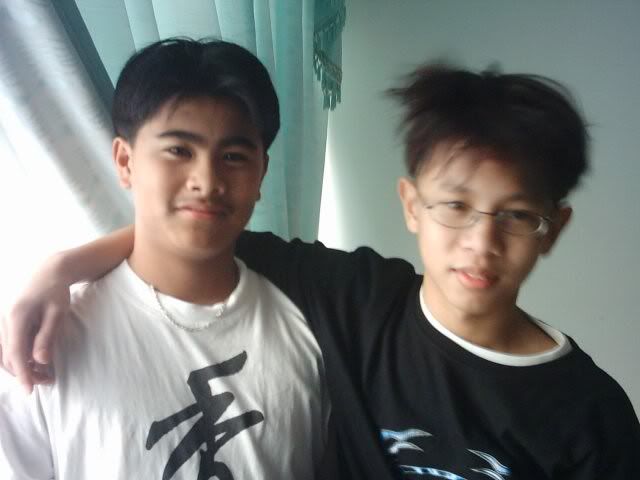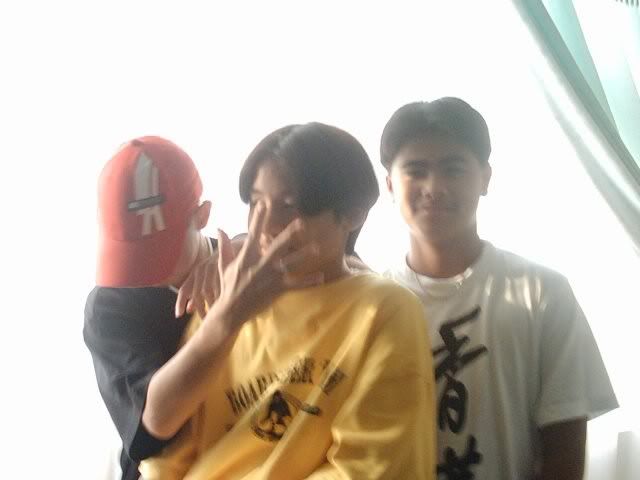 Posted at 05:19 pm by lilkrazzei
Permalink
Monday, August 16, 2004
Well... sorry for not updating. I was busy doing the new layout for this blog but it aint blring well. Dammit... I wish I can finish it already.

Anyway... nothing much happened today. We ate at Pizza hut and it was kewl. Coz when I woke up I was also hungry. Bwahahaha! Czary was supposed to go today but then her mom didn't allow her. So yeah... I missed her so much. Waaahhhh... Mud arrived here already but we ain't talking on the phone yet. He's in Dubai with his brothers so yeah. Ang arte nga nung mukong eh. Sabi ba naman bakit di ko na raw siya tinatawagan? Hate ko na raw ba siya? Lolerzz. Gago eh noh? Hahahaha
Posted at 12:35 am by lilkrazzei
Permalink
Thursday, August 12, 2004
Aren and I went to A.D.M. well as usual we didn't do anything there except walking and checkin out the guys around. We saw Gene and James coz Gene called Aren's name. They were waiting for Cheeno and Josef. While talking to them like you know how are you's and stuffs... the two guys came. Ummm.. we didn't go with them and that was a good decision coz the next time we saw them... Mark, Justin and Ernest were with them. We kinda don't like to hang-out with the two guys coz they're "feeling" and trying to fit in or something. So yeah. [I won't mention who coz someone might read this] After that we didn't see where did they go but Aren and I just continue roaming around till we got bored. We headed at Splash and tried some shirts and skirts there. We also went to Shoemart and Lifestyle. I saw one black shoes at shoemart and also bag for this coming school year. But I wonder if my mom will buy me the shoes coz it's kinda expensive. The bag is color blue and it's Bratz. lol Cute nga eh! Then we also saw a lot of cute ballpens with these feather thingie. Haha.... i'm gonna use that for school. Oh yeah... our first day will be on August 21 deng.. I thought around 2nd week of the month but shocks... i'm so excited to meet my new classmate. But that's aryt though coz Buda's coming on 19th. Wahahaha... i'm gonna see that guy again. Anywho... i have to go coz i still got lotza things to do!!! Peace!
Posted at 12:32 am by lilkrazzei
Permalink
Tuesday, August 10, 2004
As always it's very boring here at home. Later i'm gonna have my swimming lessons again and I bet I will be so tired like last night. I just I wish I ccould get that breathing thing so I can swim properly. I mean yeah I can swim already but the last two sessions sucked! I mean I can't do it properly so now... hahaha... I wish I really could. What else? Ummmm... there was one cutie with his lil brother. Shocks! He's fuckin cute! I thought he's an American or something but he spoke arabic meaning he could be a Leb or I dont know what.... hahaha... but he's really cute! Bad Kristine! lolz But I already saw 3 cute guys whenever i'm having my lessons. You see... I can't concentrate bcoz of them. Hahaha.. Joke! The first guy was a local one. I think his around 19 and above... the second one was.... ummm.. I don't have any idea but he looks like an arab and his age? Maybe around 15 and above. Then the last [the one we saw yesterday] he looks like a leb and age around 16 and above. lolz. WTF? Then later I will go there again with Aren. Bwhahahahaha! I'm really bored, you know.

Anywho... ummm.... I'm feeling better now. Maybe bcoz I think he knew what I want to say. I think... but yeah... whatever... if he aint listening when I called him up... then fine. I don't care. At least I made an effort to let him know that....... I still love him upto now!!! WTF??? yeah i know... dammit... how will I get over him? Or am I even going to get over him? Whatever!
Posted at 04:46 pm by lilkrazzei
Permalink
Monday, August 09, 2004
Hahaha... I got that from Mud. Lol. Did i tell you they went to Qatar for vacation? Well yeah.... miss ko na nga ung mokong na un eh! La na tuloy nagpapatawa sa'kin ng todo! But it's aiight. Actually I was telling him before he left that I know something would happen when he aint around. I mean something really impossible will happen. Well not really but yeah... the day after he went... I called tewooph and he answered. He was only listening to me while I talk and talk. Actually I tried to do it agian last night and it kinda worked. I just wish he was really listening. Hahahaha...at last. Honestly I was doubting if he will answer or what so I asked for a sign again. After 5 minutes I need to see a red car. Then I was waiting and waiting.... a red car passed by! Wahahahaha... I was really laughing and laughing while calling him. lol. It was fun. But I wonder why the heck I felt soooo super duper nervous while dialing his number and while waiting for him to answer!?! Damn!

Around 7:00 p.m. i'm going to my swimming lessons again. Hahaha... But 4real im losing weight. lol. I don't know if it's becoz of swiming or becoz I aint eating that much...? But i'm eating a lot, ya kow. As in chocolate, fries... lol... everything. Maybe bcoz of swimming. hahahaha. I'm bored.
Posted at 05:35 pm by lilkrazzei
Permalink
Well... before I go to the title... things here at home aint that nice. I was having fight with my dad and I wonder why the hell is he mad at me. I dont know why on earth is he thinking that I'm doing those shits?!? Dammit... I ain't like the bitches in the mall. Hell no! I may be a flirt most of the time but dammit... I never go after a guy and ask his number or be with someone that would make me look like a bitch. [Except that I went out with Josef and Cheeno alone] But yeah... I aint bitchin around somewhere coz I know where and when will I do those shits!!! I just hate it. And I'm that damn stupid to do it! Arrrgghhhh!!! My mom told me something about that topic. I mean why the hell is he saying that maybe I'm doing this and that. Well... my dad thought I'm with this "someone" again coz he knew that "someone" is a very flirt girl and she's P.D.A. as in Public Display of Affection. So yeah... my dad thought i'm with her and he's thinking that maybe i'm doing the same thing. WTF? Hell no! I told my mom that she knows who are the people with me and they aint like that. Matitino mga kasama ko noh! So yeah... i'm kinda pissed at him. I aint talking to him that much.

Anyway.. about the title... Yeah... I'm missing him. As in especially now. I'm stupid. Czary asked me why on earth did I call him? Well... you see.. bcoz of too much depression and madness.... I tend to think about him since I'm used telling him everything about my damn fuckin problems but now... not anymore. And that's too obvious. You see... he answered his cellphone. I was shocked coz he was only listening.. I guess coz I can hear the sound of his baby, laptop. lol. But yeah... I didn't control my emotions... dammit.... I really wanna talk to him. It's like I wish I can do something for us to talk but sad to say... there's no way.
Posted at 12:38 am by lilkrazzei
Permalink
Friday, August 06, 2004
Well i woke up early today. Aroun 12:30 then I took shower, eat and watched t.v. I missed watching Asian Cup I think it's already a 4 days ago since I last watched it. I also missed seeing Imad Ali plays. Hahaha. And also Shafi, the cutest goaler i've ever seen since Asian cup started. lol. What else? I think UAE aint in the quarter finals? I don't know but their game ain't that good, ya know. As if they were playing baseball. Home run dude! PEACE!

I'm having swimming lessons now and it was so kewl. [Yeah yeah yeah.. I don't know how to swim before] but now... I knew already the basic and kinda freestyle. lolz. Wtf? But dammit... my legs ad arms are killing me, you know. It hurts... as in dammit OUCH! Anyway... i'm going there again on Monday so I have to think what to do thosed days I won't have swimming lessons. Hmmmm? Go out? Haha.. as always. Oh yeah... Czary is here already! Bwahahaha... actually yesterday I went to see her and as usual we were laughing and laughing to death. I missed her.

Para sa isang tao dyan:
Alam mo nakakainis ka! Sobrang daya mo, alam mo ba un ha? Ako nandito nag-iintay pa rin sa'yo pero ikaw? Ayun nagpapakasaya at limot na ako. Ganoon na lang ba ako kasama at nangyayari 'tong mga bagay na 'to ha? Sabihin mo nga sa'kin ng harap-harapan para alam ko. Ano pa bang kulang? Lahat naman nagawa ko na. Eh di sana kung meron pa sinabi mo para at least kahit papapaano nagawa ko man lang before kang tuluyang lumayo. Di ko lang kasi lubos maisip kung bakit kailangan mo akong iwan na hindi man lang nagpapaalam. Ano 'to joke? Ano 'to tripping mo lang? Eh gago ka pala! Matapos mo akong paibigin ng gan'to bigla mo na lang akong iiwan sa ere? 'ta... di ka man lang na-konsensya! Ano ba talaga ha? Ako ehto nagpapakatanga pa rin. Umaasang babalikan mo at magsimulang muli. Pero alam ko namang imposible na 'yon ngaun eh. Now that you've moved on. Sana tinuruan mo muna ako kung paano kita kakalimutan bago ka nawala. Siguro nga masyado akong naging panatag na lagi ka lang nandyan. Eh ano ngayon? Nandito ka pa rin ba ha? Kung galit ka sabihin mo sa akin para kahit papaano alam ko kung bakit ka nagkakaganyan di ba? Sana minura mo na lang ako ng todo-todo para at least kampante ako araw-araw. Yon bang alam kong galit ka so pababayaan na lang kita. Kaso ang masama hindi eh. Puchax paano ako makaka move on kung di pa maayos ang lahat? Paano ako makaka move on kung ikaw pa rin nilalaman ng isip ko, ng puso at damdamin ko? Sa sobrang dami nang iniisip ko, di ko na tuloy kung anong paniniwalaan eh. Dammit... ang hirap ng gan'to. Sana magkaguts ka man lang na sabihin sa'kin kung bakit. Isang phone call lang naman mahirap ba un? Di ko na nga hinihinging kausapin mo akong harap-harapan eh... kausapin mo lang ako at tapusin na 'tong lahat dahil hirap na hirap na talaga ako. Kahit na di na tayo magkabalikan okay lang. Malaman ko lang na pinapatawad mo na ako, okay na. Tatantanan na talaga kita.
Bakit mo ako kailangang iwan? Di mo ba alam na kailangan kita ha? Sabi mo ako lang. Sabi mo maghihintay ka... puchax kung kelan naman kita minahal na ng todo tska ka naman nawala. Ano ba? Ang daya-daya naman kasi eh. Bakit di mo nagawang magpaalam? Mahirap na yon? Di ba promise natin sa isa't-isa, kahit na anong mangyari, walang taguan ng nararamdaman? Kung meron ka ng mahal eh di sana sinabi mo na lang. Para alam ko at may iniisip akong rason kung bakit... kaso wala talaga eh. Clueless ako, alam mo yon ha? Ang sakit-sakit ng ginawa mo. SOBRA. Kung maipapadama ko lang sa'yo kung gaano 'to kasakit, ginawa ko na. Kaso hindi eh... dahil mahal kita. Mahal na mahal pa rin kita. Siguro nga wala na 'tong lunas. Siguro nga kinalimutan mo na ako... pero ito lang masasabi ko sa'yo... kahit ano pa mang mangyari... lagi kang mananatili pati nang lahat ng ginawa mo para sa'kin dito sa isipan ko. Alam mo yon? Kahit na ano pang gawin ko para kalimutan ka... ewan ko.... wala pa rin eh. Ikaw pa rin gusto ng puso ko. Sana lang di ka konsensyahin. Sana lang masaya ka na rin kung nasaan ka man ngayon.
Posted at 06:01 pm by lilkrazzei
Permalink
Tuesday, August 03, 2004
Yeah yeah I know. I'm bored here and i'm alrady online so I just thought of posting shits, again! Haha. Things are better right now compare yesterday coz it was like a very sad moment. I never thought it was really that hard to say goodbye. And deng.. I don't know what will happen. Every single thing reminds me of Gellie. Abu Dhabi Mall, Al mariah, her letters... all of them! I really dont know what to do. She's already in the Philippines coz I got one missed call from her. And yeah... she's there already. Wtf? Bahala na! Come what may as always...

Hmmm.. I know I aint updating much like before coz I told you I have my diaryland. I'd rather update there coz only few people knew that site. And i'm getting bored with this blogdrive thingie. But I think i'll just leave this site coz it has some links or whatever. So ummm... I dont know. I'm not yet done with the diaryland thing. I mean the new layout and stuffs. Almost... as in kinda. And I dont know how the hell will it look like? Well whatever!

I slept early last night. Around 5, I think. As always talking on the phone with someone. That person is really nice, I think. But yeah... honestly I don't know if "she" is 4real. I mean like i'm not sure if "she's" 100% telling the truth or just trying to be nice. I also don't know if that's the real "her" or something so yeah... I really don't know. But "she" always made me laugh. As in she's very hilarious, you know. Haha. So yeah. I just enjoyed hearing "her" laughing and laughing. lol.
Posted at 04:49 pm by lilkrazzei
Permalink